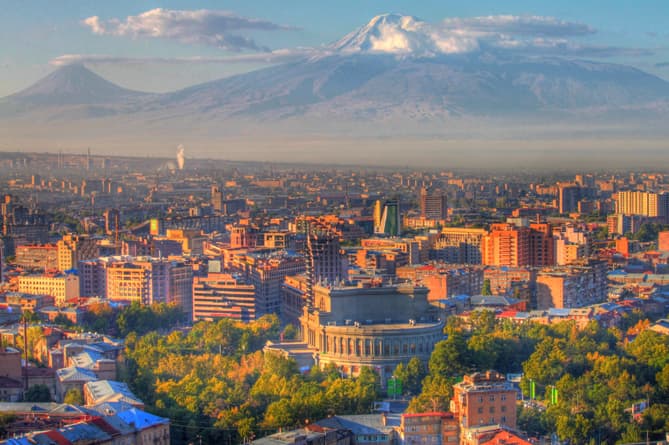 Armenia is a small country located in the Caucasus region, known for its rich cultural history, ancient architecture and beautiful natural landscapes. Despite its size, Armenia is home to a wealth of cultural and natural treasures that have attracted tourists from all over the world.z
One of Armenia's main tourist attractions is its capital, Yerevan, a vibrant and cosmopolitan city that combines the richness of its history with the modernity of urban life. Visitors can enjoy a wide variety of activities, such as visiting museums and art galleries, strolling through the historic city center or enjoying the lively nightlife.
However, Armenia's charm extends far beyond its capital. The country boasts a wealth of ancient monasteries and historic sites, which are a testament to its rich history and culture. Visitors can tour the ruins of ancient fortresses, hike mountain trails and discover the beauty of small rural villages.
In addition, Armenia is known for its delicious food and high quality wines, which makes its gastronomy an unmissable experience during the trip. In short, traveling to Armenia is a unique opportunity to explore a country with a rich history and culture, and enjoy its natural beauty and unique cuisine.
Where is Armenia? Discover its geographic location

Armenia is located in the Caucasus region, at the intersection of Eastern Europe and Western Asia. It borders Turkey, Georgia, Azerbaijan and Iran. Yerevan, its capital, is one of the oldest cities in the world.
How to travel to Armenia from Spain?

To travel to Armenia from Spain, you have several direct flight options that will take you to Zvartnots International Airport, located in the capital, Yerevan. You can consult different airlines and travel agencies to find the best itinerary and prices.
Armenia is known for its safe and friendly environment for tourists. The crime rate is low, which makes traveling in the country a relaxed and pleasant experience.
Requirements for travel to Armenia
Requirements for travel to Armenia may vary depending on the nationality of the traveler and the purpose of the trip. However, in general, the following are the common requirements to enter Armenia:
Valid passport: All travelers need a valid passport to enter Armenia. The passport must be valid for at least six months from the date of intended entry.
Visa: Depending on the nationality of the traveler, it may be necessary to obtain a visa before traveling to Armenia. Some countries have visa waiver agreements with Armenia, which means that citizens of those countries can enter without a visa for stays of up to 180 days. Other citizens can obtain a visa on arrival or at an Armenian embassy or consulate in their home country.
Travel Insurance: It is strongly recommended that travelers obtain travel insurance to cover medical and repatriation expenses in case of illness or injury during their stay in Armenia.
The must-see in Armenia
Armenia is a country with a rich history and culture, and there are many things to see and do there. Some of the most popular tourist sites and attractions in Armenia include:
City of Yerevan
The Armenian capital, Yerevan, is a vibrant city full of history and modernity. Visit the Armenian History Museum, stroll through Republic Square and admire the impressive Opera House.
Geghard Monastery
This monastery carved into the rock is a sacred and captivating place. Declared a UNESCO World Heritage Site, the Geghard Monastery is an architectural gem dating back to the 4th century. Explore its intricately carved stone chambers and admire the frescoes and relics they house.
Temple of Garni
Located near Yerevan, the Garni Temple is an impressive example of Greco-Roman architecture. Built in the 1st century, this temple dedicated to the god Mithras offers a spectacular view of the surrounding landscape. Take the opportunity to enjoy a swim in the nearby Garni Gorges.
Khor Virap Monastery
This monastery, located at the foot of Mount Ararat, is a sacred place for Armenians and offers breathtaking views of Mount Ararat. It is also an important site for Armenia's Christian history.
Lake Sevan
Lake Seván, known as "The Pearl of Armenia", is one of the largest and oldest high mountain lakes in the world. Its crystal clear waters surrounded by mountains offer a stunning setting to relax and enjoy water activities.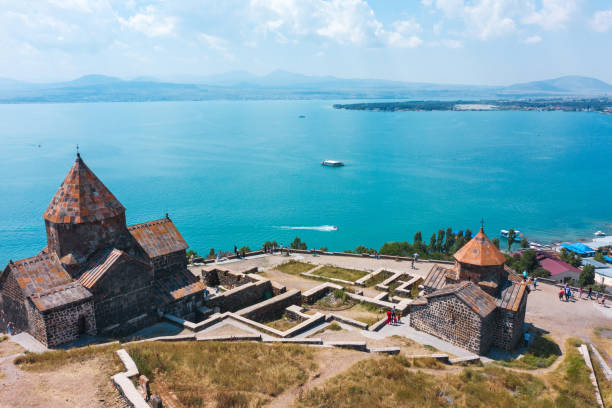 Noravank Monastery
This medieval monastery, located in a rocky canyon in southern Armenia, is another UNESCO World Heritage site and is known for its impressive architecture and decoration.
Mount Ararat
An iconic and sacred mountain located on the border between Turkey and Armenia. This mountain is believed to be the place where Noah's Ark came to rest after the Great Flood, according to biblical tradition. Although the mountain is located in Turkey, it can be seen from many places in Armenia, especially from the capital Yerevan.
With a history dating back thousands of years, Armenia is rich in cultural traditions. Discover local crafts, enjoy folk music and participate in traditional festivals to immerse yourself in the authenticity of this nation.
The best time to visit Armenia
To experience the best of Armenia, it is important to consider the weather and the season. Spring and autumn are ideal to visit, as the weather is pleasant and the landscapes are in full bloom. During the winter, you can enjoy winter charm and mountain activities.
Tips to enjoy your trip to Armenia
Learn some words in Armenian
Aunque mucha gente habla inglés, aprender algunas frases en armenio demuestra tu interés y respeto por la cultura local. Saludos básicos y expresiones de agradecimiento son siempre bien recibidos.
Taste the delicious Armenian gastronomy: food is an essential part of Armenian culture. Enjoy traditional dishes such as dolma, lavash and khachapuri. Also, try the local wines, as Armenia is one of the oldest wine regions in the world.
Respect local customs: Armenia has strong traditions and customs rooted in its society. Respect the cultural and religious norms of the country for a more enriching experience.
Be prepared for the weather: Armenia's climate can vary, so be sure to pack clothing suitable for different seasons. Don't forget to bring sunscreen and insect repellent.
Traveling to Armenia is an experience that immerses you in a rich history, fascinating culture and breathtaking landscapes. From ancient to modern times, this country captivates travelers with its unique charm. So, don't wait any longer, venture on a trip to Armenia and create unforgettable memories.
Frequently asked questions about traveling to Armenia
---
Do I need a visa to travel to Armenia from Spain?
Spanish nationals do not need a visa for stays of less than one year
Do you have to be vaccinated to go to Armenia?
No, no vaccination is mandatory
Is it safe to travel to Armenia alone?
Yes, Armenia is generally a safe country for solo travel. As in any destination, it is important to take safety precautions and be aware of your surroundings. In general, Armenians are friendly and welcoming to tourists.
What is the best time to visit Armenia?
The best time to visit Armenia is in spring (April-June) and autumn (September-November), when temperatures are moderate and there are fewer tourists. Summer can be hot and busy, while winter can be very cold and snowy.
What currency is used in Armenia?
The official currency in Armenia is Armenian dram (AMD). Money can be exchanged at banks, exchange houses and ATMs.
What outdoor activities can I enjoy in Armenia?
Armenia is an ideal destination for nature lovers and outdoor activities. Some of the popular activities you can enjoy in Armenia include hiking in the mountains, skiing in winter, visiting lakes and rivers, and exploring national parks and nature reserves.
We hope this guide has inspired you to plan your trip to Armenia and that you enjoy this unique Caucasus adventure to the fullest. ¡Good travel!